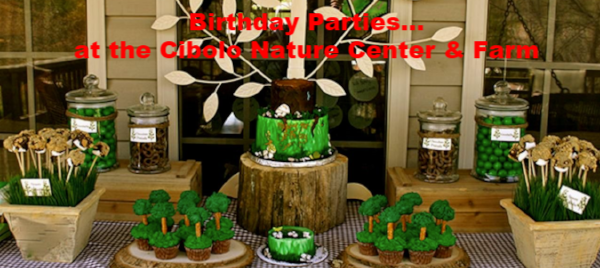 Our Birthday Party Program
Packages $150*
Available for booking on open Saturdays 10:00 am – 4:00 pm and Sundays 2:00 pm - 4:00 pm
Package includes:
   1 program activity Guide
   45 minute guided program on selected theme with activity and crafts for 15 children
   2 hours use of the pavilion or back porch for 2 hours, tables & chairs/benches included
      (Party Host will be allowed to decorate 30 minutes before party, clean up 30 minutes after.)    
Programs offered are:
Reptiles:  Children will get up close and personal with live reptiles while learning how important they are to our world.
Scavenger Hunt:  Children learn about our natural treasures while using a map to locate different areas of the park.
Insects:  Children will collect insects using nets and jars and after discover how each of them are unique.
Tracks & Skulls:  Children will investigate the bones and footprints of animals to learn how they lived and who they were. They will also and go explore the park to look for more animal signs! 
*Additional $5.00 per person fee for more than 15 participants.
*Additional $50.00 fee per hour of pavilion use over 2 hours.
Reservations must be made at least 2 weeks in advance and prepayment of a $150.00 deposit is required.
Cancellations must be made within 7 days prior to the party to receive a refund.  ($50 cancellation fee will be withheld on all cancellations.)
A Family Membership is encouraged for those having a birthday party at the Cibolo Nature Center & Farm.
Party Hosts will be responsible for all set up and clean up.  Nature Center is not responsible for decorations, food, or gifts.  All park rules and regulations apply. Set up is allowed 30 minutes prior to party; 30 minute clean up after party.
For reservations or questions please email Joely Cifre or call 830.249.7230.