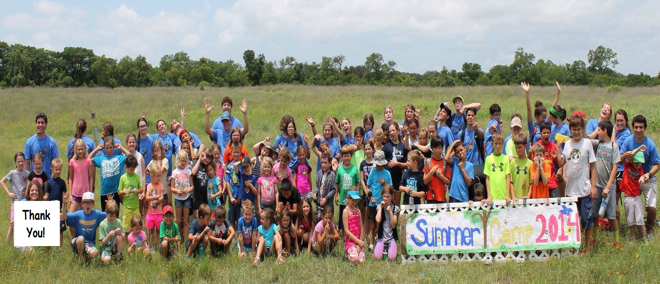 2017 Summer Camps Information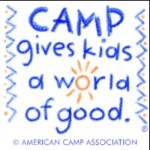 NATURE CAMP 2017
$160 early bird discount; $175 after June 1. (prices are per week)
Nature Camp is for ages 5-12 years old. Nature Camp occurs during eight weeks in June, July,and August, Monday through Friday, 9:00 am - 1:30 pm. Camp activities seek to nurture an awareness and appreciation of the environment in school-age children. The camp fosters teamwork and mutual respect for one another. There are also traditional camp activities such as games, crafts, skits, silly songs and special guests. At the conclusion of each camp, parents are invited to a celebration picnic where campers present what they've learned.
Creek Week (June 19-23)
THIS CAMP WEEK IS FULL.
Kick off the summer with us as we swim, fish, hike the creek, make leaf boats and learn about the wildlife that call the Cibolo Creek home. Beat the heat and get wet in water wars, water relays, and water balloons. You'll have so much fun you'll never get dry!
Survivor Cibolo (June 26-30)
Make a shelter, find water, go fishing and find out how plants and animals survive in the wild. We'll put your wilderness skills to the test with our compass and GPS course and you can challenge yourself to compete to be the ultimate Cibolo Survivor!
Outdoor Challenge Mini-Week (July 5-7, 9am - 3pm)
This 3-day camp cost is $200.00. Come out for 3 full days of fun and adventure! We'll fish, tie dye, hike, swim, catch bugs, make solar ovens, sail boats in the creek, make crafts, dance, and use maps to find our way as we explore the outdoors!
Fishing Fiesta (July 10-14)
Become fishing professionals by mastering the best casting techniques and discovering which baits are premium for catching the most fish, while identifying which fish live in the waters of the Cibolo Creek! We will fish every day while learning to bait, cast, reel, and catch and release native Texas fish. We'll also explore how important the water is to the fish, us, and everything in our world!
Where The Wild Things Are (July 17-21)
Discover the amazing creatures at the Nature Center. We'll track mammals, fish, meet live reptiles, hunt insects, and use binoculars to find birds! We'll look at animal bones, skins, skulls, and prints to uncover the mystery of the animals that call the nature center home!
Wet and Wild Week (July 24-28)
We'll have a blast getting wet with water relays, swimming, puddle jumping, calling frogs, fishing, water battles, and spend our warm days in the cool waters of the Cibolo Creek! 
Eco-Adventure (July 31-Aug 4)
Come explore with us and discover the creatures that live at the nature center. Go on hikes, track animals, swim, fish in the creek, and catch insects in the prairie. We'll be making earth art, tie dye bandanas, and competing in water relays!
Explorers Week (Aug 7-11)
Explore our 4 unique habitats and find out how to read nature.  Discover how animals live in the wild and what they need to survive and even meet some up close! Learn how to use a map and compass and look for treasure. 
ART CAMP 2017
$175 early bird discount; $190 after June 1st. (prices are per week)
Art Camp is for ages 5-12 years old.  Art Camp occurs during seven weeks in June, July,and August, Monday through Friday,1:30 pm. - 4:30 pm.  Art Camp emphasizes exploring the outdoors, learning new techiques, and capturing nature by encouraging personal expression and creativity. Ms. Emily Berset, local art school teacher, is the Art Camp Director. At the conclusion of each camp, parents are invited to an art exhibition where campers display what they have created.
Sculpture (June 19-23)
Discover how different cultures utilize natural and man-made materials to create 3D works of art. We'll make masks, figures, and work together to make a camp sculpture.
Painting (June 26-30)
THIS CAMP WEEK IS FULL.
Experiment with different styles of painting from throughout history. We will get messy while action painting, learn how to paint from nature and practice making natural paints.
Beading (July 10-14)
Learn how to use beads in a multitude of ways! We will make our own beads and use pre-made beads to create cool key chains, decorate walking sticks and even make a wind chime for your backyard.
Textiles (July 17-21)
Join us for a week filled with fabric fun! We will be tie-dying t-shirts, potato printing tote bags and using natural dyes to create a quilt for the nature center.
Producing Picasso (July 24 - 28)
THIS CAMP WEEK IS FULL.
Come and explore the unconventional style of Pablo Picasso. Create fabulous works of art through print making, pen and ink drawings, using pastels, photography and the cubist method.
Earthworks (July 31 - Aug 4)
Art is all around us, and so are materials! Together, we will gather natural items to create unique works of art as well as create something to stay at the nature center.
Smorgasbord (Aug 7-11)
This week will be smorgasbord of different art techniques throughout history. We will paint while laying down like Michelangelo in the Sistine Chapel, use stencils to create geometric art like Frank Stella and create abstract mobiles like Alexander Calder.
HERFF FARM ADVENTURE CAMPS 2017
$160 early bird discount; $175 after June 1st. Prices are per week.
9 AM - 1:30 PM.
Wild, Wild West @ the Herff Farm (July 10-14)
Dust off your boots and grab the overalls for this fun filled week of Wild West adventure. Explore the great outdoors and get a taste of a time long forgotten. We'll sing old camp fire songs and get our feet moving with an old fashion hoe down dance. With bandanas and cowboy hats in hand we'll discover what nature has to offer. You'll learn how to set up camp, build a bonfire, and indulge in s'mores! 
Gold Rush @ the Herff Farm (July 17-21)
Better get a move on before all the gold is spoken for! Join us for a fast and furious race to claim your stake in the great gold rush! Get ready to pan for precious minerals, navigate the terrain, and gear up for life without modern day conveniences! You'll be sure to get a taste of the simple life as we follow in the footsteps of some of those who dared it all to catch that one big break.
Apache Adventures @ the Herff Farm (July 24-28)
Get an up close and personal look at the first inhabitants of this part of Texas! Lipan Apache Indians occupied this lush farm land long ago. We'll take a look at their diverse history and lifestyle. Gather around the campfire to hear the tale of the white feather and find out the importance of nature in their daily lives! We'll make Apache art, find out how to write with pictures, and commune with nature! 
Barnyard Palooza @ the Herff Farm (July 31 - Aug 4)
Mooove on over to make room for some barnyard sized fun with all your favorite farm animals. Learn with us about the different animals and how they help make the farm function. Join us in celebrating the diversity of life on the farm and get silly with some fun animal sing-a-longs and games. Discover the many gifts of farm life and get ready to share your best farm animal impressions with everyone! 
PRESCHOOLER & PARENT CAMPS
9:00 AM - Noon
Ages 2 - 4
$75 per session
Session I        June 19-21
Session II       June 26-28
Session III      July 10-12
Session IV      July 17-19 (This camp week is full.)
Bring your young explorer and stay for fun and adventure as we offer indoor and outdoor activities that help your wee one discover and learn about nature using their 5 senses. We'll be telling animal tales, planting seeds, hunting for bugs, singing, dancing, eating silly snacks, and creating unique masterpieces of art to take home!
REFUND/CANCELLATION POLICY:
Registration fees are non-refundable unless determined by a medical emergency or illness.  A doctor's note must be provided for a medical cancellation refund. Any other refunds will be subject to a $25 cancellation processing fee.