Conserve
The Cibolo Corridor Conservation Initiative
Protecting the Cibolo Creek Watershed
The Cibolo Creek is a treasure that arises from springs on the outskirts of Boerne and meanders 100 miles southeast to its confluence with the San Antonio River. Alternating from shallow, rocky flats to deep, mossy canyons and sprinkled with scenic falls, the spring-fed creek offers stunning scenery and opportunities for every type of nature lover.
In the waters, catfish, sunfish, and Guadalupe bass tempt anglers.

All around, cypress and live oaks create a canopy of life overhead for birders to enjoy.
Cibolo Creek provides critical recharge for both the Trinity and Edwards aquifers, the vast underground reservoirs that are the primary sources of water for the Hill Country and the City of San Antonio. The Cibolo Nature Center created the Cibolo Corridor Conservation Initiative to protect and preserve the Cibolo Creek. The CNC works in partnership with The Nature Conservancy, Texas Parks and Wildlife, land-owners, businesses, state and municipal agencies and other conservation organizations to undertake the enormously important task of protecting this delicate watershed.
A landscape under threat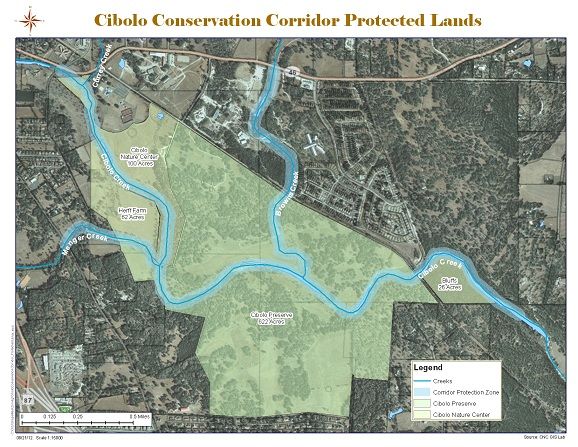 Rapid development, population growth and the increased use of groundwater threaten the health of the watershed - and potentially threaten the people and wildlife that rely on it. Through collaborative conservation efforts, the CNC and its partners have protected nearly 1,300 acres within the Cibolo Watershed. And the Cibolo Corridor Conservation Initiative will protect many more acres and nearly five miles of sensitive groundwater recharge in the Cibolo Canyonlands.
The Cibolo Canyonlands rise dramatically from the creek on the eastern edge of the CNC. A steady pulse of water over millions of years has carved deep, flowing paths through porous limestone cliff walls. Nearby, Herff Falls rumble.
Texas mock-orange, big red sage and hairy sycamore-leaf snowbell line the banks

One of the only great blue heron rookeries in the county regenerates these majestic birds

Kingfishers, caracaras, red-shouldered hawks and great horned owls are a common sight, and the federally endangered golden-cheeked warbler and black-capped vireo shyly appear

The creek is home to Guadalupe bass - our imperiled state fish - as well as the threatened Cascade Caverns salamander.
A collaborative, science-based approach
Through leadership, education, science and stewardship, the Cibolo Corridor Conservation Initiative protects the quality of life along the Cibolo Creek.
A volunteer "citizen-scientist" program is surveying the populations of common plants, birds, small mammals, insects and reptiles - providing crucial information for developing best practice land-management techniques

The Texas Stream Team monitoring program studies endangered species, plus water quality and quantity issues within the watershed

The ongoing educational programs and outdoor classroom workshops at the CNC promote conservation conscience to children and adults

To promote sound stewardship, the CNC and the CCCI share effective land- and water-management practices with local landowners, developers and other Cibolo Creek stakeholders

Roundtable discussions allow the sharing of ideas and knowledge among landowners, conservation partners, developers and policymakers
Partners & Advisors
The Cibolo Preserve
The Nature Conservancy of Texas
Cibolo Conservancy
City of Boerne
Kendall County Commissioners
United States Geological Survey
Edwards Aquifer Authority
San Antonio Water System
San Antonio River Authority
Texas Commission on Environmental Quality
Greater Edwards Aquifer Alliance
Texas Department of Transportation
Guadalupe Blanco River Authority
Land Trust Alliance
Texas Parks and Wildlife
U.S. Army Corps of Engineers
Boerne Independent School District
Hill Country Land Stewards
Texas Land Trust Council
Private Landowners and Developers
Conservation Programs, Methods & Practices
Outdoor Classroom
Farm Classroom
Summer Adventure camp 
Family programs 
Resource Library 
Land Stewardship program series 
Hill Country Land Stewards 
Citizen Science Research Center 
Rainwater harvesting 
Xeriscaping and native planting 
Marsh restoration 
Prairie management 
Cedar management 
Species surveys & data collection 
White-tail deer management 
Avian habitat restoration
Pollinator Habitat Restoration