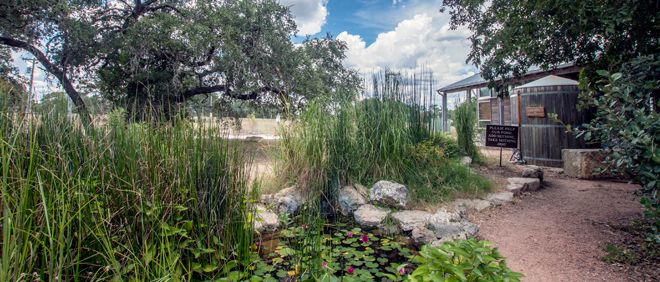 Plan Your Visit
A visit to the Cibolo Nature Center & Farm (CNC&F) can be just what you make it. With a variety of different opportunities, each experience can be totally new or tried-and-true.
To Bring With You
Natural (deet-free) bug repellent

Water or other drinking source

Sunscreen and/or protective clothing

Towels
Interpretation
Throughout the park, you will find interpretive signage designed to add an element of understanding and appreciation to your visit. Any questions? Just ask! The folks in the Visitors Center are happy to answer your questions.
Rules
Please Protect Your Preserve!

Take only pictures, leave only footprints.

Please stay on designated trails.

No bicycles of any kind allowed on the trails.

No smoking on trails.

Do not harm plants or wildlife.

"Catch & Release" fishing only.

No firearms.

Dogs must stay on leash.
Visitor Center & Gift Shop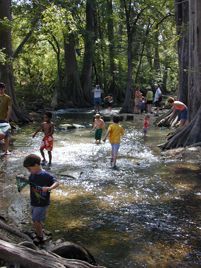 Creek
The Cibolo Creek flowing through the Cibolo Nature Center & Farm is always running. The Creek is supplemented by treated water from the Boerne water treatment plant, and is consistently checked by our own scientists and the Texas Stream Team to ensure water quality. Tall Cypress trees line the banks, preserving the look and feel of the Cibolo Creek as it appeared hundreds, maybe even thousands, of years ago. Spread your toes in the Cibolo mud, and you will feel like you belong in nature; because you do!
Walking Trails
With miles of walking trails throughout the park and connecting with the City of Boerne, you will never get bored with this nature walk.
Dinosaur Tracks
Millions of years ago, the CNC wasn't only visited by wildlife, dogs, horses, and humans. Huge dinosaurs once roamed the area as well. In 1997, after a big flood, dinosaur tracks were uncovered at the Boerne Lake Spillway. These tracks were made by a giant reptile called Acrocanthosaurus, who lived in the Cretaceous Period about 100 million years ago. Concerned about the longevity of the tracks, the Cibolo Nature Center participated in creating an exact replica of the tracks and placed them on a trailhead on the CNC grounds. Now, the tracks of Acrocanthosaurus are preserved to see, enjoy, play, and learn. Imagine you are an Acrocanthosaurus, prowling the CNC, ready to attack and eat another dinosaur with your huge teeth with serrated edges like steak knives!
Boardwalk
A large boardwalk provides a safe (and dry!) place to explore the CNC's Marsh area. This important wetland ecosystem is home to turtles, fish, nutria, native reeds, and more!
Back Porches
Behind the Visitor Center and Auditorium, you will find a nice place to rest in the shade. With room to sit and quietly observe nature, you will feel like you are in a naturalist's dream, all while staying comfortable.
Picnic Areas
Bring your own picnic for an outdoor dining experience like no other! You will find picnic tables throughout the park, including near the Cibolo Creek. You are welcome to bring coolers. Just make sure to take any trash and leftovers with you.
Bird Watching
The Cibolo Nature Center is home to an astounding array of birds including favorites like the painted bunting and endangered golden-cheeked warbler. CNC staff and Volunteers are continually monitoring our bird population. You can help by picking up a Birder's Checklist at the Visitors Center or by printing out the checklist below. Fill it out during your visit, and drop it off on your way out.
Other Wildlife
The Nature Center is also important habitat for a variety of flora and fauna. With native plants and animals throughout the center, you will experience Texas nature at its finest. Be sure to keep your distance, however. Delicate plants might be under propagation, and you should never approach any wild animal. Be a naturalist, and enjoy and observe!
Dogs & Horses
The Cibolo Nature Center is absolutely animal-friendly! You are welcome to bring friendly dogs on leashes and enjoy the trails in the park. We also have a history of "horse traffic" and we want to continue to allow horses on our trails. Our trail policy is meant to ensure safety, protect the park, and encourage use of the most appropriate trails. Please observe the following Cibolo Nature Center Trails - Horse Policy:
Load and unload in the overflow parking lot.
Clean up after horse and remove manure from the loading and unloading area.
Keep your horse on the road or designated trail at all times.
Pedestrians have the right of way.
We recommend the roads, the prairie trails and the trail across the creek. These have the best footing and head clearance.
Do not ride on the creekside and woodland trails, which are especially sensitive areas.
Cross the creek at the picnic area. Please be considerate of picnickers.
Enjoy the park!
Please do not bring or release any other animal into the park, even native species. Our habitats are carefully managed.
Auditorium
The Auditorium located on the Nature Center grounds is usually busy with activity. Educational workshops, meetings, weddings, and more happens right here. To discover how to rent the auditorium and other CNC&F facilities, please visit our Facility Rental page!
Pavilion
The pavilion is a large, shaded, outdoor building with restrooms, picnic tables, and a wildlife mural. Basically, if you want to find a "base of operations" while you're visiting the CNC, this is your best spot! The multipurpose pavilion is also available for rental for school groups, birthday parties, and more.
View Current Weather Conditions at the CNC & Farm

Check the CNC & Farm Weather HERE. The weather station at the CNC is graciously funded by the Edwards Aquifer Authority.