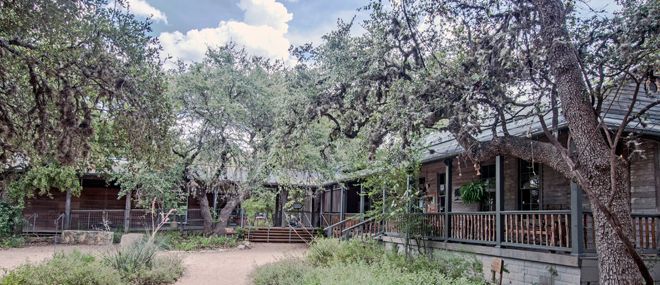 Visitor Center & Gift Shop
Gift Shop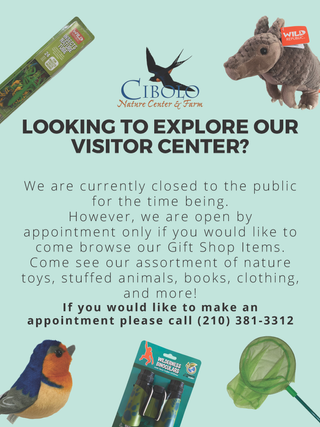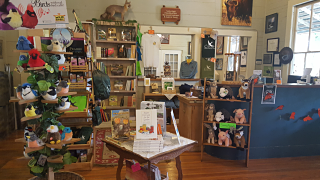 Shopping at the CNC Gift Shop is another great way to support our mission because all proceeds support our various programs.
Books on Regional nature, Birds, Plants, Gardens, Local History and more
Pocket Guides on Birds, Butterflies, Wildflowers, Turtles and more
Apparel with the Cibolo Nature Center & Farm logo
Audubon Plush Birds, stuffed animals and nature-themed toys
Original Lars Nielsen Blue Bird Houses
Unique, handcrafted walking sticks and antler whistles
Milkweed and Native plant seeds and so much more
If you are looking for the perfect birthday, holiday or special occasion gift for the nature lover in your life we have it! All purchases come in a recyclable paper bag with some decorative tissue, meaning you can get it and gift it in one stop.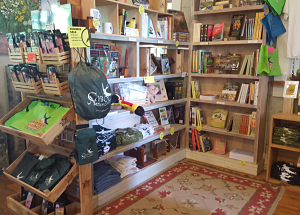 ---
Hours of Operation for Gift Shop and Visitor Center   (currently closed to the public)
Although our trails are open 8 AM to dusk, our Gift Shop and Visitor Center are open to the public during the following times:
       Monday through Saturday:  9 AM to 5 PM
       Sunday:  1 PM to 5 PM
For more information please contact us at 830.249.4616.  
---
Visitor Center
What you'll find when you stop by to visit:
A warm welcome . . .from knowledgeable and friendly staff & volunteers
Trail maps
Helpful brochures
Upcoming Events; check out our calendar
Plenty of cool, filtered water generously donated by our friends at Culligan!
Deep shaded porches on which you can sit in peace, reflect, sketch, journal, or bird watch
Air conditioning and comfortable chairs
Live Animals from our Creek:  
            Turtles
            Fish
            ​Even a tarantula. She would love to meet you!
Children's Discovery Center
          A large segment of a real Mammoth tusk!
          ​Native American artifacts, found locally
          A rock collection for your young geologists to touch and explore
          Items to see and touch on everything from insects to birds to mammals and more!
While you're here, let us know you visited by signing our Guest Book. By doing that every time you visit, you will help us build a compelling case when we apply for grants and funding.
Also pick up your comprehensive Birding Checklist of birds seen out and about at our Nature Center.  Even when we aren't here, we provide these checklists and trail maps in boxes right outside the Visitor Center's front door. You'll also find trail maps and guest books at our various outdoor kiosks at Trail Head entrances.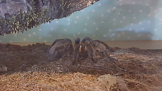 Help Nurture Nature
In addition to joining our Circle of Friends, you can help support our programs and help maintain the beauty of the park by dropping a gift in one of our donation boxes. These are located inside the Visitor's Center and outside along the main path from the parking lot, near the cedar rail fence. Our Circle of Friends members enjoy a 10% discount in our Gift Shop.

Portrait Photography
Are you celebrating a special life milestone by having your portrait taken here at our beautiful Nature Center (for a wedding, graduation or other special time in your life)?  Our photo permit fees start at just $20 and helps support our education programs and trail maintenance. You can purchase a photo permit here or in our Visitor Center during business hours.