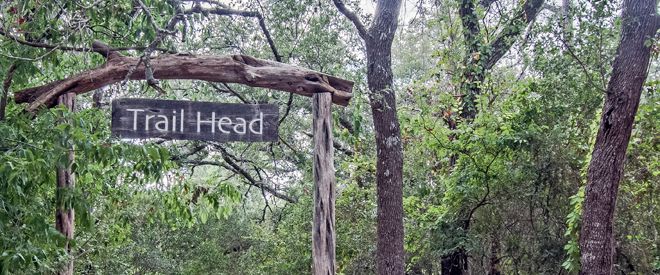 Trails
The Cibolo Nature Center campus at 140 City Park Road offers miles of trails for the enjoyment of all ages and abilities. From the serious trail enthusiast to families with young children and dogs, everyone can find something to enjoy. In all seasons, the trails offer new experiences and opportunities to connect with nature.
Visitors can enjoy hiking, horseback riding, picnicking, birding, and connecting with nature. Camping and bicycling are not permitted within the park. As part of the Boerne City Park system, the road leading to the Nature Center features an outdoor swimming pool, tennis courts, a playground, and athletic fields. The Nature Center, however, is a respite of pure nature just a bit farther down the road.
Visitors can enjoy approximately 3 miles of trails which cover a huge variety of natural landscapes. The full trail circle will take about 2 hours, but a variety of different loops and routes allow for a new adventure with every visit.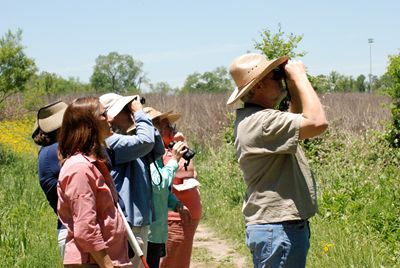 Trail Maps
Be sure to pick up trail maps at our various outdoor kiosks located on the front porch outside of our Visitor's Center and at Trail Head entrances.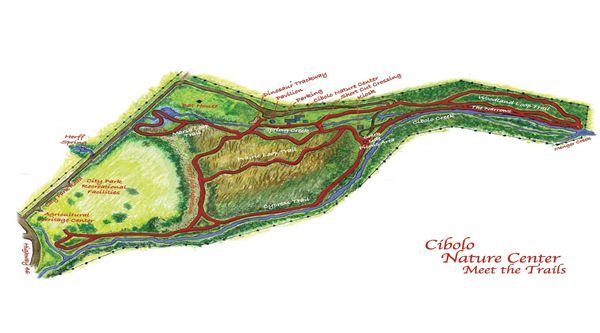 Marshland Trail
½ mile
Marsh once covered five times as much land as it does now.  Because of development, it was almost entirely lost.  Restoration efforts by the City of Boerne and the Friends of the Cibolo Wilderness have saved this last remaining portion of the marsh. 
Native marsh plants and animals now call it home.  Look for: redwing blackbird, kingfisher, cattle egret, whistling tree duck, and many others.  This handicap-accessible trail is best enjoyed at a slow pace so you do not miss the wonders in the tall rushes and clear pools.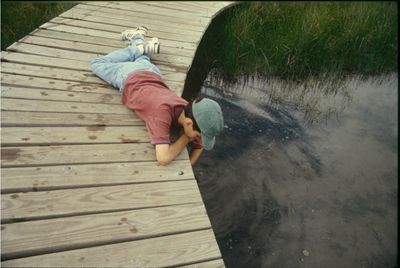 Woodlands Trail
½ mile
Wind along the bluff overlooking the Cibolo Creek and enjoy the dense shade of the oak and juniper overhead, as American beautyberry, elbowbush, and Mexican buckeye provide understory.  This is habitat for deer, rabbits, armadillo, and many birds.  An easy trail loops back through wildflower meadows and open grassland -- an inspiring look at nature!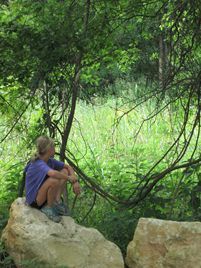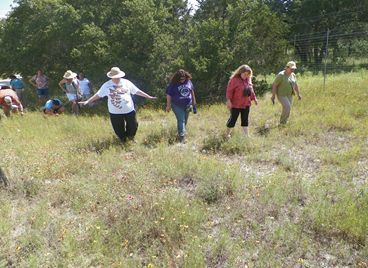 Cibolo Creek Trail
1/3 mile
The towering cypress trees along the Cibolo Creek create a canopy of life.  Birds flit about, squirrels race from limb to limb.  Raccoon, opossum, and ringtail cat sleep peacefully through the day in tree hollows.
Along the lush bank, you can discover mustang grape, rough-leaf dogwood, spicebush, and the threatened sycamore leaf snowbell.  Peer into the clear water to see turtles, bass, perch, and catfish.

The Cibolo Creek is a critical habitat for wildlife and an important source of recharge for the Edwards Aquifer.  The creek is tested regularly for water quality and is part of the Texas Watch Stream Monitoring program.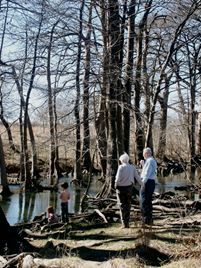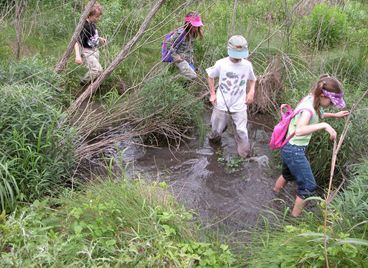 Native Texas Prairie Trail
½ mile
Prairie once covered oceans of Texas acreage, but is now one of the region's most endangered ecosystems.  This pocket prairie contains the tall-grass species that our ancestors knew: big bluestem, Indian grass, and switch grass.  It is home to the red-shouldered hawk, scissortail flycatcher, meadow lark, and rabbit.  Deer graze where the buffalo once roamed.  The Friends of the Cibolo Wilderness manage the prairie through research and controlled burns.  The entire preserve is a wildlife management research site.