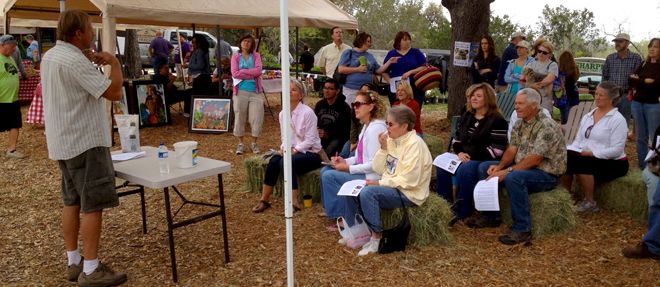 Adult Education
Adult Education workshops at the Herff Farm occur as part of the Farmers Market at the Cibolo, Saturdays from 8:30am to 12:30pm, March through September.  These workshops are free to attend!
Our expert speakers include Texas Master Gardeners, horticulture business owners, and scientists.  Many of these workshops also include a hands-on component that will help you to get the most out of your gardening efforts.  In addition to the free scheduled presentations, a visit to our Inspiration Garden will yield a friendly anytime talk with one of our knowledgeable Garden Volunteers who work to keep the demonstration garden blooming.  Check out our calendar of events for the most up-to-date listing of workshops we offer.
In addition, several times a year, we offer Festivals that cover a wide range of sustainability education topics. Check back often for calendar updates.
Gardening workshops and festivals will teach you how to:
Create Garden Beds
Grow Plants from Seed
Fertilize Plants
Control Pests
Install Drip Irrigation
Save Seeds
Create a Compost Pile
Use Worms to Produce Fertilizer
Raise Backyard Chickens
And Much More. . .
You can learn while doing as a Volunteer in our Inspiration Garden:
We also encourage anyone who is interested in hands-on learning to join our team of gardeners in the Inspiration Garden at the Herff Farm. You can learn more about opportunities to volunteer in the Inspiration Garden on the Volunteer Section of our website.