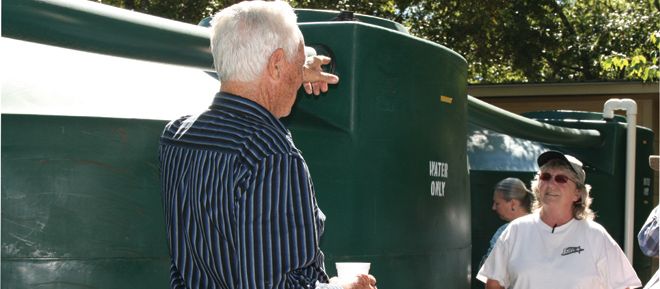 Sustainable Living Workshops
Think Globally, Act Locally!  This is a great mantra for learning how to "Live Lightly in the Hill Country."  There are many opportunities for living sustainably, and they don't have to be difficult or uncomfortable.  Usually, they are much better for your wallet as well as your community.   Sustainable Living Workshops at the CNC & Farm are held at the Nature Preserve, the Herff Farm, and sometimes include a hands-on component or field trips to see sustainability in action. 
Water is life!  In this period of prolong drought and unconventional global weather patterns, water is becoming even more important to our families.  Especially in the Hill Country, water is a precious resource, and as our population grows groundwater resources will likely become depleted.  This is why many homeowners and business are turning to rainwater harvesting.  To conserve water on landscapes, many people choose drought tolerant native landscaping irrigated with greywater from the home.  Meanwhile, some families are seeking to become entirely self reliant, producing their own energy and food as well. 
To assist Hill Country business and homeowners to live more sustainably, our workshops cover a variety of topics, including:
Rainwater Harvesting
Greywater Reuse
Solar Energy Production
Energy Conservation
Home Vegetable Gardening
Conscientious Consumption
Why this is important:
Humans are currently consuming resources at a staggering rate that many view to be unsustainable.  As the human population grows beyond 7 billion, it is clear that we must adopt lifestyles that reduce waste and pollution while preserving the quality of life that we cherish.  Each individual who adopts a sustainable lifestyle creates a ripple effect of positive influence that helps to correct the course for humanity toward a sustainable and abundant future.
NOTICE:  When registering online for any of our workshops, please be advised there is a 10% processing fee for refunds due to cancellation.