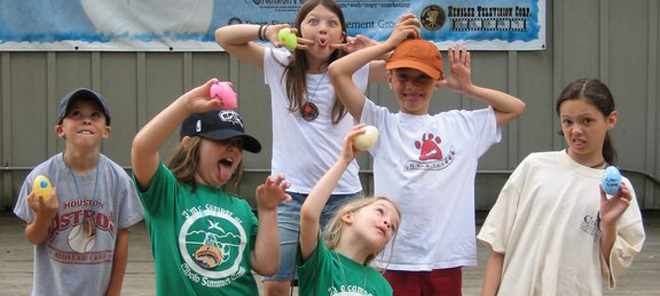 Summer Camps Information
NATURE CAMP 2019
$160 early bird discount; $175 after June 1.** (prices are per week)
**   Fantastic Fishing Week (June 17-21) $175 early bird discount; $200 after June 1.
Nature Camp is for ages 5-12 years old. Nature Camp occurs during eight weeks in June, July,and August, Monday through Friday, 9:00 am - 1:30 pm. Nature Adventure Camps nurture an awareness and appreciation of the environment and give opportunities for learning through nature play and creative hands-on activities. At the conclusion of each camp week, parents are invited to a celebration picnic where campers present what they've learned.
Wildlife Galore (June 10-14)
Did you know that armadillos always have four identical babies? We'll discover the fascinating animal life that lives all around us and will have an opportunity to meet some animal friends in person.
Fantastic Fishing (June 17-21)
We will learn about aquatic life, explore Cibolo Creek and have fun fishing! Note: This week is limited to a smaller number of campers (40) so that everyone can have plenty of creek time.
Nature Detectives (June 24-28)
There are animal signs everywhere! Tracks, scats, feathers, and bones are just a few of the ways that we know an animal has been near. We'll use our sleuthing skills to solve the mystery of the wild animals that live at the Cibolo.
Messy Mania Mini Camp! (July 1-3)
Slug slime and vulture vomit...we'll learn all sorts of cool and gross facts about the natural world and have a chance to get extremely messy ourselves! Note: This week only has 3 days due to the July 4th holiday.
Reptile World (July 8-12)
Learn about these scaly creatures that inhabit different regions of the world, including Texas! What are some of the traits that help them survive and thrive? We'll also have a chance to meet some reptile ambassadors.
Wet & Wild Week (July 15-19)
Let's have some fun with H2O! We'll spend the week exploring the water cycle, the role water plans in the lives of animals, and of course playing in the Cibolo Creek. We will also have water relays, toss water balloons, and splash around with more fun watery activities.
Things With Wings (July 22-26)
Bats, birds, and grasshoppers. What do they all have in common? Wings! We'll learn how these critters use their special features to soar, flap, and fly. We'll also discover how humans studied our winged friends to invent the airplane.
Survive In The Wild (July 29-Aug 2)
Put your survivor skills to the test at the Cibolo! Make a shelter, find water, and find out how plants and animals survive in the wild. We'll put your wilderness skills into action. Be the ultimate Cibolo survivor!
---
ART CAMP 2019
$175 early bird discount; $190 after June 1st. (prices are per week)
Art Camp is for ages 5-12 years old.  Art Camp occurs during seven weeks in June, July,and August, Monday through Friday,1:30 pm. - 4:30 pm.  Art Camps emphasize exploring the outdoors, learning new art techniques, and capturing nature by encouraging personal expression and creativity. At the conclusion of each camp, parents are invited to an art exhibition where campers display what they have created.
Build It & They Will Come (June 10-14)
Transform ordinary cardboard into the extraordinary! Campers will use their imagination to construct their own cardboard masterpieces, learn about architecture, and leave with their own fort.
Campy Crafts (June 17-21)
This week is all about classic camp craft -- tie dye, God's eyes, beading, and friendship bracelets, just to name a few. We're going to retro in the art world!
Art Through The Ages (June 24-28)
Let's travel back in time and imagine the future through art! We'll create pinch pots from the ancient Roman time period and use everyday objects to design gadgets of the future.
Color My World (July 8-12)
From the bluest summer sky to a brilliant rainbow, nature is full of color! Campers will explore the infinite universe of color through a multitude of materials and art techniques.
Trash To Treasure (July 15-19)
This week, we're thinking outside of the box and making art from unexpected and recycled materials! We'll use newspaper to make paper mache and turn old t-shirts into plant holders. You'll never look at the items in your recycle bin the same. 
Art In Nature (July 22-26)
This week is all about being inspired by the nature we find outside to create one-of-a-kind masterpieces. Campers will paint with handmade brushes made from natural objects, use leaves to make print art, and make suncatchers to capture the sun's rays.
A Little Of This, A Little Of That (July 29-Aug 2)
Let's make new masterpieces from the many techniques we've used over the summer! We'll use the greatest hits of the art mediums from each week to create unique and amazing works of art.
---
LITTLE EXPLORERS CAMP
9:00 AM - Noon
Ages 2 - 4 (accompanied by caregiver)
$75 per week; $85 per week after June 1st.
Bring your young explorer and stay for fun and adventure as we offer activities that help your wee one discover and learn about nature using their 5 senses. We'll tell animal tales, plant seeds, hunt for bugs, sing, dance, eat silly snacks, and create unique masterpieces of art to take home!
---
GENERAL INFORMATION YOU NEED TO KNOW ABOUT CAMP;
REFUND/CANCELLATION POLICY:
Registration fees are non-refundable unless determined by a medical emergency or illness.  A doctor's note must be provided for a medical cancellation refund. Any other refunds will be subject to a $25 cancellation processing fee.