Cibolo Nature School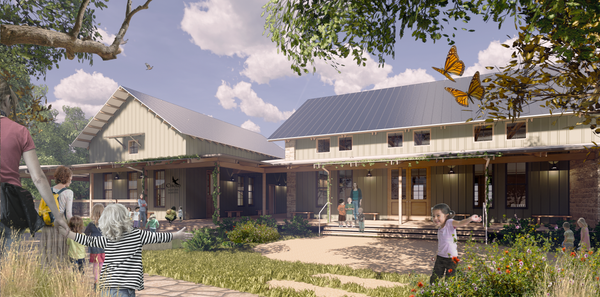 Expanded Cibolo Nature School and Learning Village Coming 2021
CURRENTLY ENROLLING FOR NATURE SCHOOL 2020-2021!
Mission:  At Nature School we are building Strong Backs, Inquisitive Minds, & Wild Hearts in young children through hands-on experiences with nature and research-based teaching methods that provide the best possible education for each individual child.  
About Us: The Cibolo Nature School provides a rich child-centered learning environment for children ages 3 to 5 years old built on a unique place-based curriculum model that incorporates play, care theory and nature-based learning.  It is customized with attributes from Montessori, Reggio Emilia and Waldorf that are integrated with a learning through play methodology.  All of this occurs on a one-of-a-kind nature campus at the Cibolo Nature & Farm. Students have access to the Cibolo Nature Center, a 100-acre natural preserve with 4 eco-systems and the 60-acre historic Herff Farm.
Each student, along with their peers, can immerse themselves in natural experiences guided by experienced teachers in a mixed aged class. Our teachers guide and evaluate the emotional, behavioral, cognitive, academic, and biophilic intelligence of each individual student through half outdoor and half indoor play-based learning. We maintain a low teacher to student ratio providing an intimate learning "tribe" in each classroom.
Why Nature School?
With the standardization of education and the emphasis on testing, parents, teachers, and communities are seeing the need to have future generations playing, learning and exploring outside in nature.  This has led to a 500% increase in the number of nature schools created since 2012 throughout the United States.
Today's kids are growing up at a moment when American childhood is increasingly indoors and technologically enhanced. Families spend more time indoors and on screens. A connection to the natural world is just the cure for this "nature deficit disorder".
Notable research shows children under the age of 8 years old learn primarily and best from rich, play-based learning experiences.  Learning through play teaches collaboration, community building, language development, critical thinking skills, creativity, innovation and resilience.  These are the necessary skills for reading, writing, math, and every academic subjects thereafter.  These are also skills that adults use every day in their lives and jobs. The Cibolo Nature School teachers set the stage for learning through play with enriching, engaging and fun activities that the child explores through play using observations, experiences, wonder and discovery with an awareness of the world around them and their relationship to others and the environment. 
Benefits:
Outdoor play increases fitness and builds active, healthy bodies
Outdoor environments are important to children's development to independence and autonomy
Children who spend time in nature have better language skills and more self-discipline
Spending time in the open air and learning outside increases children's ability to think both critically and creatively
2020-2021 School Year
When: August 31, 2020
School Hours: 9am-2pm 
Enrollment Options: 2 days, 3 days or 5 days a week
Tuition: $240/month (2 days a week); $360/month (3 days a week);  $600 (5 days a week)
Registration Fee: $75
Enrollment or Wait List Questions or Information  |  linda@cibolo.org  |  830.388.7678  |  nature@cibolo.org | 830.249.4616